Erin D. Singshinsuk, Executive Director
Karen L. Banno, Office Manager
Dwight Bashir, Director of Research and Policy
Elizabeth K. Cassidy, Director of International Law and Policy
Judith E. Golub, Director of Congressional Affairs & Policy and Planning
Elise Goss-Alexander, Researcher
Roy Haskins, Manager of Finance and Administration
Andrew Kornbluth, Policy Analyst
John D. Lawrence, Director of Communications
Tina L. Mufford, Senior Policy Analyst
Jomana Qaddour, Policy Analyst
Zachary Udin, Research Assistant
Henry Young, Travel Specialist
Isaac Six, Congressional Relations Specialist
Waris Husain, Policy Analyst
Erin D. Singshinsuk, Executive Director
Ms. Singshinsuk has been affiliated with numerous organizations with an international focus including the U.S. Institute for Peace (USIP) where she served as the Vice President for Management and the Chief Financial Officer. She also has provided support for a variety of Federal Agencies including USCIRF, the Vietnam Education Foundation (VEF), The U.S-China Economic and Security Review Commission (USCC), and the U.S. Trade and Development Agency (USTDA).
Dwight Bashir, Director of Research and Policy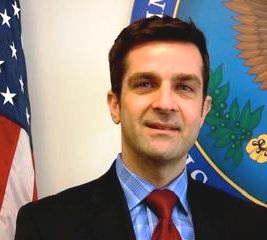 Dwight Bashir is Director of Research and Policy at the Commission. For more than 20 years, he has worked in the areas of international human rights, freedom of religion or belief, and conflict resolution. While at USCIRF, Mr. Bashir has led or participated in numerous fact-finding missions internationally and has traveled widely throughout the Middle East, Africa, and Europe. An expert on human rights and religious freedom in the Middle East and North Africa, Bashir provides periodic training for officials at the U.S. Departments of State and Homeland Security and is serving his second two-year term on the United States Holocaust Memorial Museum's Committee on Holocaust Denial and State-Sponsored Antisemitism. Mr. Bashir has been interviewed and his articles featured in major media outlets, blogs, and academic journals, including BBC, CNN, The Washington Post, Foreign Policy, PBS NewsHour, National Public Radio, Al Jazeera, the Yale Journal of International Affairs, and the Cairo Review of Global Affairs, among others, and he lectures in the United States and globally on various topics in international affairs, including countering violent extremism, ethnic and sectarian conflict, and global peace and security.
Before joining USCIRF, Mr. Bashir worked with the United Nations and the Institute for Multi-Track Diplomacy on conflict prevention; a U.S. Department of State advisory body on religious freedom, intolerance, and reconciliation; and other non-governmental organizations advocating international human rights. Mr. Bashir pursued his Bachelor's degree in political science and international relations at the University of Richmond and his Master's and Doctoral degrees in international conflict analysis and resolution at George Mason University.
Elizabeth K. Cassidy, Director of International Law and Policy
Elizabeth K. Cassidy is Director of International Law and Policy at the Commission.  She joined the Commission staff in 2007.  She manages USCIRF's annual report process, supervises policy and research staff, and is responsible for a substantive portfolio that includes United Nations issues, international and comparative law issues, and U.S. refugee and asylum policy.  Before USCIRF, Ms. Cassidy was Assistant Executive Director of UN Watch, a non-governmental organization in Geneva, Switzerland.  She also worked as a legal consultant to several human rights NGOs in Windhoek, Namibia.  Ms. Cassidy has taught courses at the University of Namibia, Princeton University, and Seton Hall University School of Law, and conducted training sessions for U.S. State Department and Department of Homeland Security officials.  She has authored and co-authored several book chapters and numerous journal and on-line articles, including in the Harvard Journal of Law and Public Policy, the Georgetown Journal of International Affairs, OnFaith, and Opinio Juris.  In 2014-2015, she served on the U.S. State Department's Religion and Foreign Policy Working Group.  Earlier in her career, Ms. Cassidy practiced law in the Washington, D.C. office of Akin, Gump, Strauss, Hauer & Feld and was a judicial clerk to the Hon. Richard Nygaard of the U.S. Court of Appeals for the Third Circuit and the Hon. William Bassler of the U.S. District Court for the District of New Jersey.  She holds a B.A. in international politics from Wesleyan University, a J.D. from American University's Washington College of Law, and a LL.M in comparative constitutional law from the University of Stellenbosch. 
Judith E. Golub, Director of Congressional Affairs & Policy and Planning
Judith Golub joined the Commission in January, 2009. Before coming to the Commission, she was the Executive Director of the San Francisco-based Immigrant Legal Resource. She also was the Senior Director of Advocacy at the American Immigration Lawyers Association, and Legislative Director at the American Jewish Committee, both based in Washington DC. She brings to the Commission more than twenty years experience working with Congressional staff, federal agencies, and the White House; planning, coordinating and implementing legislative strategies; developing, policy, media and grassroots issue advocacy campaigns in support of legislation and policies; developing and working in coalitions with like-minded organizations to help create effective networks; and working with the media. Ms. Golub has focused on a broad range of issues during her career including religious freedom, hate crimes, due process protections, detention, deportation, expedited removal, civil rights, refugee and asylum issues, and immigration.
Elise Goss-Alexander, Researcher
Elise Goss-Alexander is a researcher with the U.S. Commission on International Religious Freedom. She has been with the Commission since January 2017. Previously, she served as project coordinator at the E-Collaborative for Civic Education, where she conducted research, writing, and administration related to Iranian civic education and digital safety. She has also worked in research and outreach for the National Endowment for Democracy's Reagan-Fascell Fellowship, which hosts democratic activists, scholars, and journalists. Ms. Goss-Alexander holds a Master of Theological Studies degree from Harvard Divinity School and Bachelor of Arts degrees in religious studies and international studies from American University.
Andrew Kornbluth, Policy Analyst
Andrew Kornbluth joined the staff of USCIRF in December 2016. His areas of responsibility include Eastern Europe, Russia, Central Asia, and the Caucasus. He holds a BA from Columbia University and a PhD in Eastern European and Russian history from the University of California, Berkeley. Previously, he wrote on contemporary Russia and European affairs for The Moscow Times, Ukrainskiy Tyzhden, and The New Atlanticist, the newsletter of the Atlantic Council.
John D. Lawrence, Director of Communications 
John D. Lawrence has been at the U.S. Commission on International Religious Freedom (USCIRF) since March 2017.  At USCIRF, he is in charge of issues related to overall communications, USCIRF's online presence, interaction with the media, writing, and publication development and execution.  For more than 25 years he has worked in Washington, DC on international issues, including foreign aid, democracy assistance, and national security issues related to ISIS.  A Middle East specialist, Mr. Lawrence has traveled extensively in the Middle East and South Asia.
Before joining USCIRF, Mr. Lawrence worked with the Institute for the Study of War (ISW).  As ISW's Director of External Affairs, he was a member of the senior leadership team and an advisor to ISW's President and Board.  He was responsible for U.S. government relations, media interaction, and ISW's online presence, including social media. 
Mr. Lawrence has a Bachelor of Science in the Foreign Service from Georgetown University's School of Foreign Service as well as a Master of Arts in Arab Studies from Georgetown University's Center for Contemporary Arab Studies.  An active member of the City of Falls Church community, he has served as an elected official on the School Board since 2012.
Tina L. Mufford, Senior Policy Analyst
Tina L. Mufford joined the Commission in June 2014 as policy analyst for East Asia-Pacific, including Burma, China, Indonesia, Laos, North Korea and Vietnam.  Previously, she served as deputy director for Asia at the non-profit, non-partisan International Republican Institute (IRI), overseeing freedom and democracy programs throughout 12 countries regionally.  Ms. Mufford originally joined IRI in 2007 as a program officer working on governance programs for Iraq, building the capacity of members of parliament and their staff.  Her global experience at IRI includes serving as a rapporteur at The Sixth Assembly of the World Movement for Democracy held in Jakarta, Indonesia in April 2010 and as an international election observer in Asia, Africa and the Middle East.   Before joining IRI, Ms. Mufford spent eight years working in the U.S. House of Representatives, primarily for former Representative Thomas M. Reynolds (New York), gaining experience in the areas of international relations, health care, trade, financial services and parliamentary procedure.  Ms. Mufford holds a Master of Science in Comparative Politics (Democracy) from the London School of Economics and Political Science and has a Bachelor of Arts in Political Science from Binghamton University.
Jomana Qaddour, Policy Analyst
Jomana Qaddour is a policy analyst at the U.S. Commission on International Religious Freedom, where she focuses on religious freedom in Syria, Iraq, Lebanon, and Jordan. Previously, she served as a Senior Associate and Project Manager at the conflict analysis firm Caerus Associates, where she provided government clients with information on developments in Syria. Prior to joining Caerus, she was a Senior Research Assistant and Publications Manager for the Project on U.S. Relations with the Islamic World in the Center for Middle East Policy at the Brookings Institution, where she focused on Syria, Egypt, Palestinian politics, and Islamist movements. Jomana also co-founded Syria Relief & Development, a humanitarian organization that provides direct emergency and ongoing humanitarian relief for Syrians since 2011. She is currently working on her LLM at Georgetown Law Center, and she holds a JD from the University of Kansas School of Law. She has published pieces focused on Syria, including topics relating to international trade, civil society organizations, the Syrian opposition, and the Alawite minority. She has also been invited to participate on a number of panels, working groups, and meetings pertaining to developments in the Middle East post-Arab Spring.