FOR IMMEDIATE RELEASE
June 23, 2016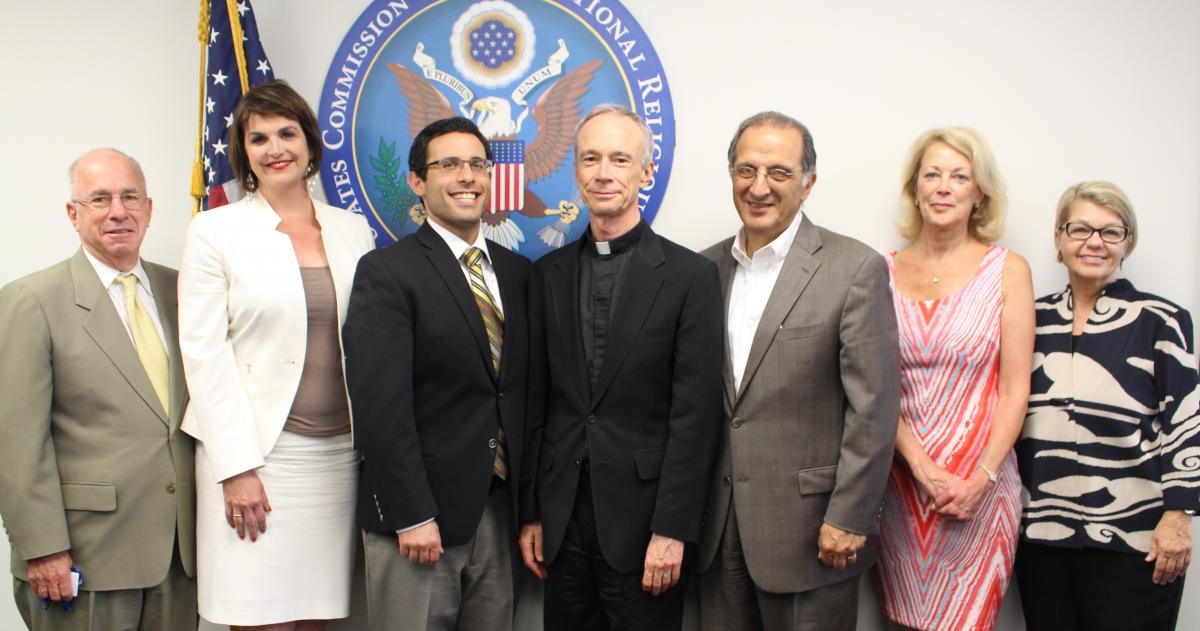 (From left to right: Dr. John Ruskay, Kristina Arriaga, Dr. Daniel Mark, Rev. Thomas J. Reese, S.J., Dr. James J. Zogby, Ambassador Jackie Wolcott, and Sandra Jolley)
WASHINGTON, D.C. – Rev. Thomas J. Reese, S.J., was elected on June 21, 2016, as Chair of the United States Commission on International Religious Freedom (USCIRF). President Obama appointed Father Reese to the Commission on May 15, 2014, and reappointed him on May 12, 2016.
"I am honored to serve as USCIRF's Chair and work with my fellow Commissioners in support of freedom of religion or belief," said Father Reese. "World events underscore the importance of this fundamental right:  A key factor in many of the United States' foreign policy challenges, religious freedom is under serious and sustained attack across much of the globe. As an independent, bipartisan federal government commission, USCIRF provides recommendations to help the President, Secretary of State, and Congress protect and advance this precious freedom."  
Father Reese is a Senior Analyst for the National Catholic Reporter, a position he has held since 2014.  Previously, he was a Senior Fellow at the Woodstock Theological Center from 2006 to 2013 and from 1988 to 1998, and also served as the Editor-in-Chief of America magazine from 1998 to 2005 and an associate editor from 1978 to 1985. Father Reese entered the Jesuits in 1962 and was ordained in 1974.  He is the author of Inside the Vatican: The Politics and Organization of the Catholic Church. He received a B.A. and an M.A. from St. Louis University, an M.Div. from the Jesuit School of Theology at Berkeley, and a Ph.D. in Political Science from the University of California, Berkeley. 
Also on June 21, two USCIRF Commissioners were elected Vice-Chairs: Dr. Daniel Mark and Dr. James J. Zogby.  Speaker of the House Paul Ryan reappointed Dr. Mark on May 16, 2016, and President Barack Obama reappointed Dr. Zogby on May 14, 2015. 
Dr. Daniel Mark is an assistant professor of political science at Villanova University and the battalion professor of Villanova's Navy ROTC unit.  For the 2015-16 academic year, Dr. Mark is on sabbatical as a visiting fellow in the Department of Politics at Princeton University under the sponsorship of the department's James Madison Program in American Ideals and Institutions.
Dr. James J. Zogby is the founder and president of the Arab American Institute (AAI), a Washington, D.C.-based organization which serves as the political and policy research arm of the Arab American community.  He is also Managing Director of Zogby Research Services, which specializes in public opinion polling across the Arab world.
Also serving on the Commission are: Kristina Arriaga, Sandra Jolley, Dr. John Ruskay, and Ambassador Jackie Wolcott. Rabbi David Saperstein, the Ambassador-at-Large for International Religious Freedom, serves ex officio on the Commission.
To interview a USCIRF Commissioner, please contact USCIRF at media@uscirf.gov or 202-786-0615.